Main Benefits Of The Product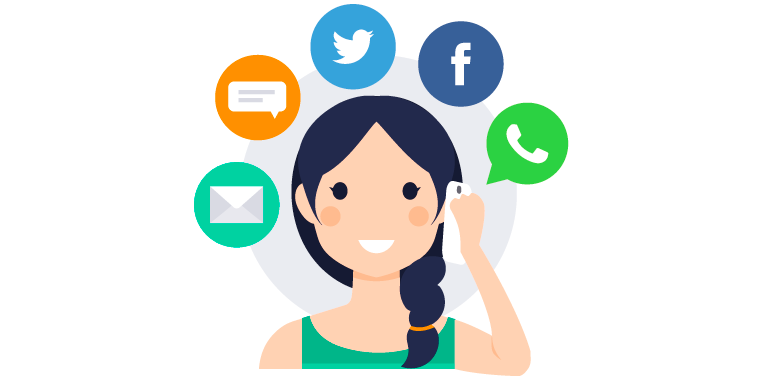 All channels integrated
All mainstream customer channels are supported.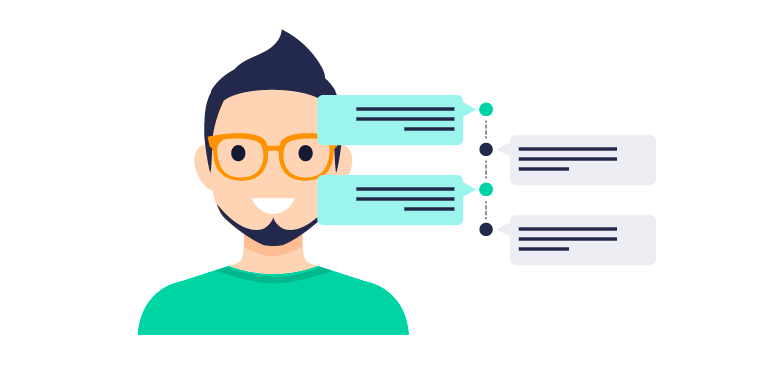 Customer timelines
Provide better support for your customers with our automatic timeline creation.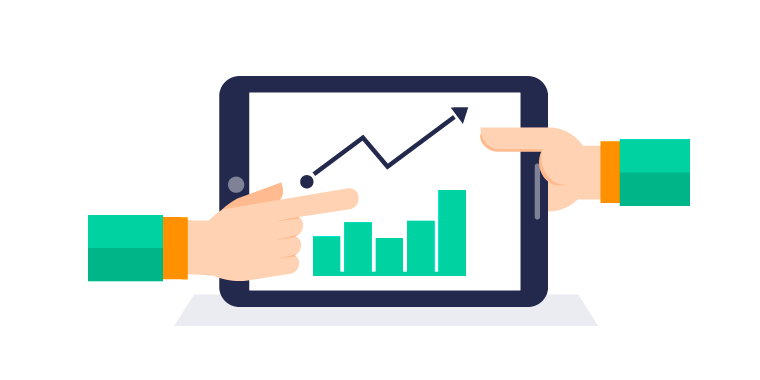 Advanced Analytics
Extensive reporting options with personally configurable dashboards.
All channels integrated
Telephony
Phonecalls are still one of the most used channels for customer support. With direct connection to the Dutch telephony network we deliver great quality.
E-mail
We offer extensive options for e-mail. For example, you can have tickets snooze or send a mail at a specific time.
Live chat
Service through live chat is very popular. This is fully integrated in Omnidesk.
Social media
With our Facebook and Twitter integration you can easily answer public and private messages from your organization.
Chatbot
Connect Google's Dialogflow, IBM Watson or any other chatbot with Omnidesk for escalation to a customer service representative via the timeline or for customer satisfaction surveys.
Customer contact in a timeline
With our application we create one timeline per customer for all channels. This gives the employee a clear overview of the contact history and the internal notes.
We also make it very easy to switch between channels. Do you have someone on the line who wants a confirmation via e-mail or text message? With our platform, this is only a matter of pressing one button.
Because we group communication at a customer level you can get customer details with the push of a button in your extended CRM. Our philosophy is: let us take care of all communication with your customers, then your IT department can focus on building nice features for your market.
Smart data
Users can configure dashboards with many different KPIs. They can specify how they want to view the data. For example in a graph or table. All dashboards can be updated live.
Privacytooling
The GDPR is now in effect for some time. With customer communication you automatically come into contact with a lot of data. We therefore have extensive tooling available to set a retention period per datatype (customer-specific). For example you can configure that attachments are deleted earlier than normal messages; or outgoing messages in tickets are kept for one year and incoming messages are deleted after six months. Because we can link communication to the customer you can easily remove all data of one customer with the click of one button (keep in mind our 30-day backup term).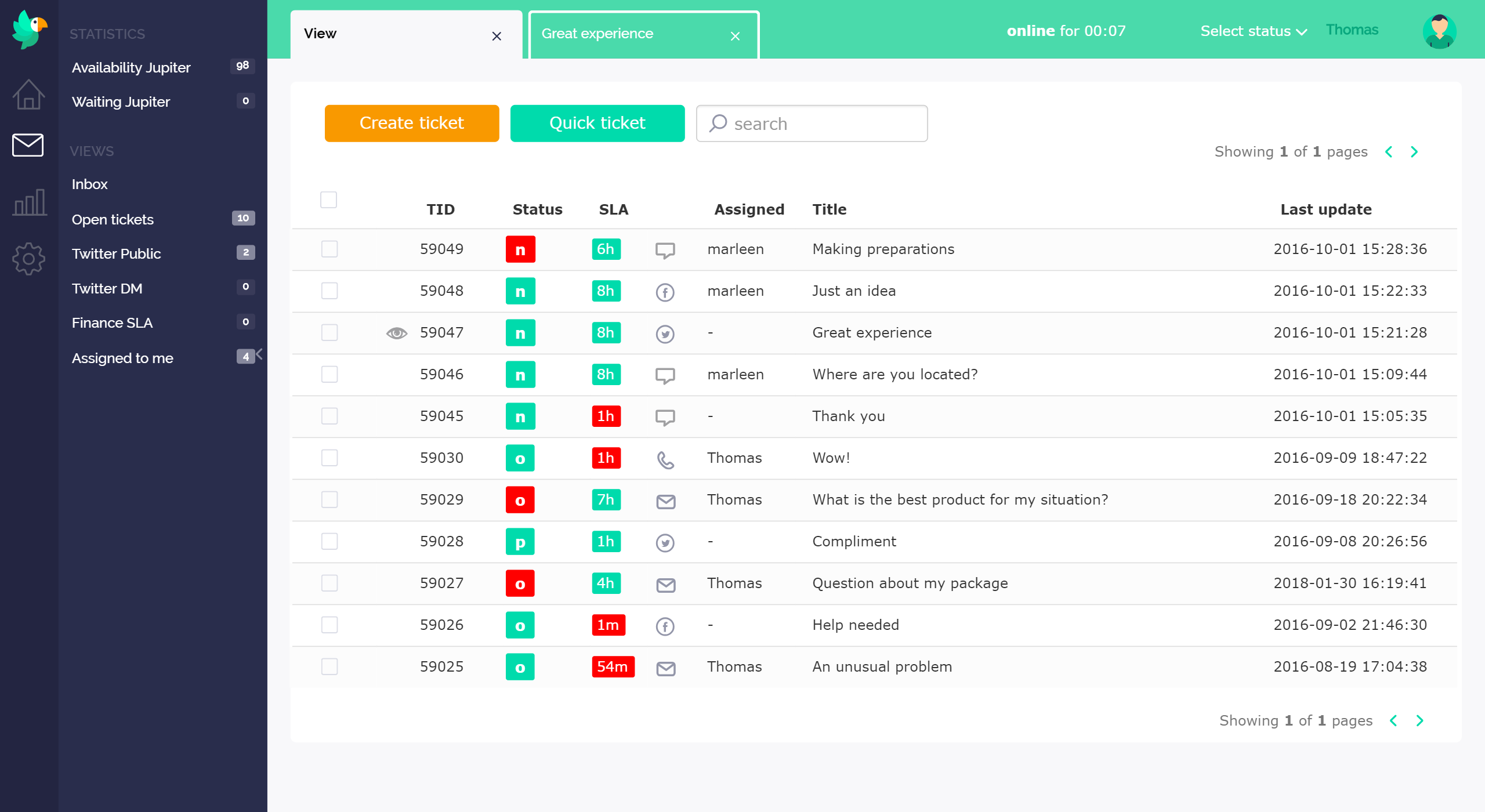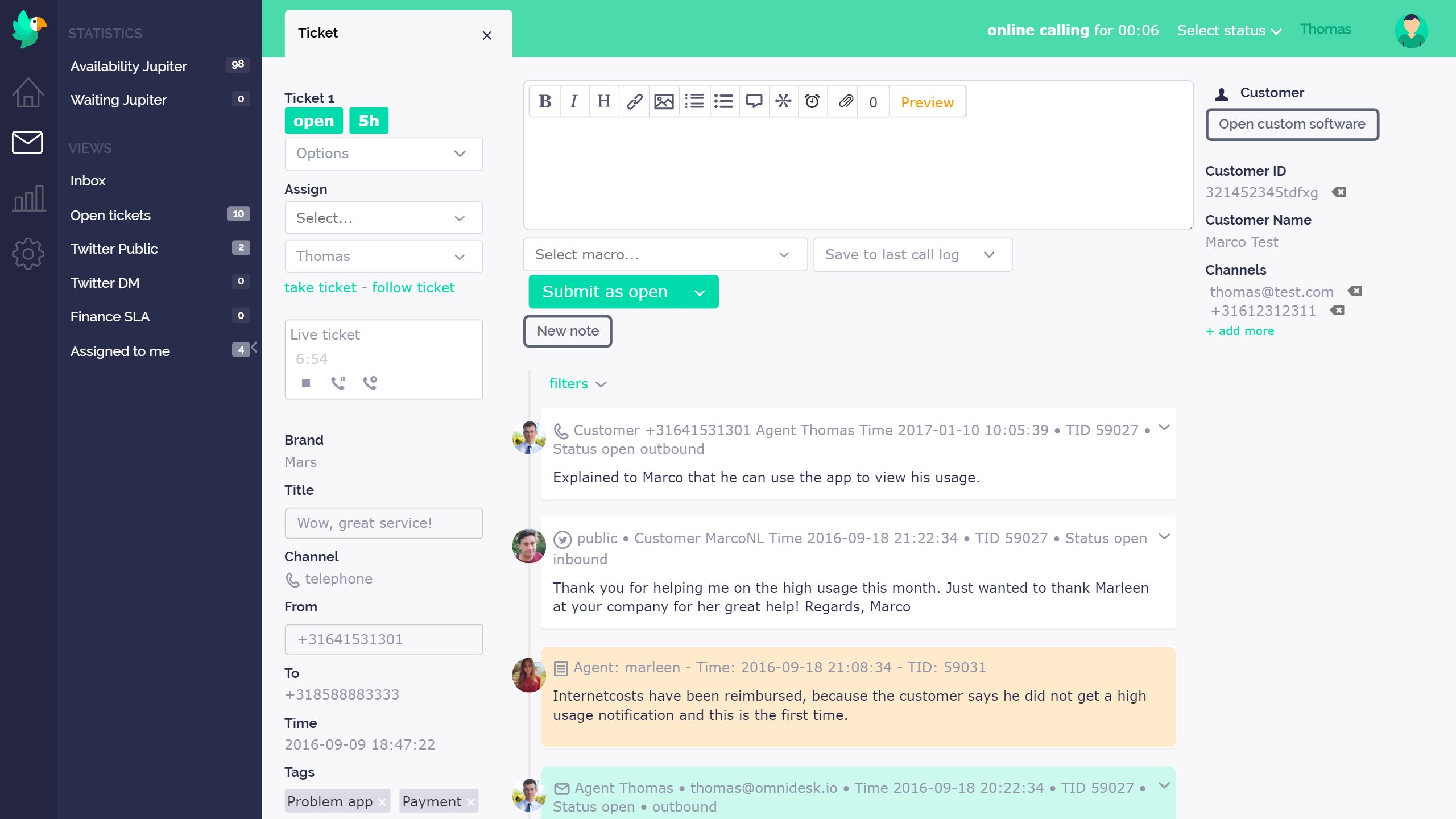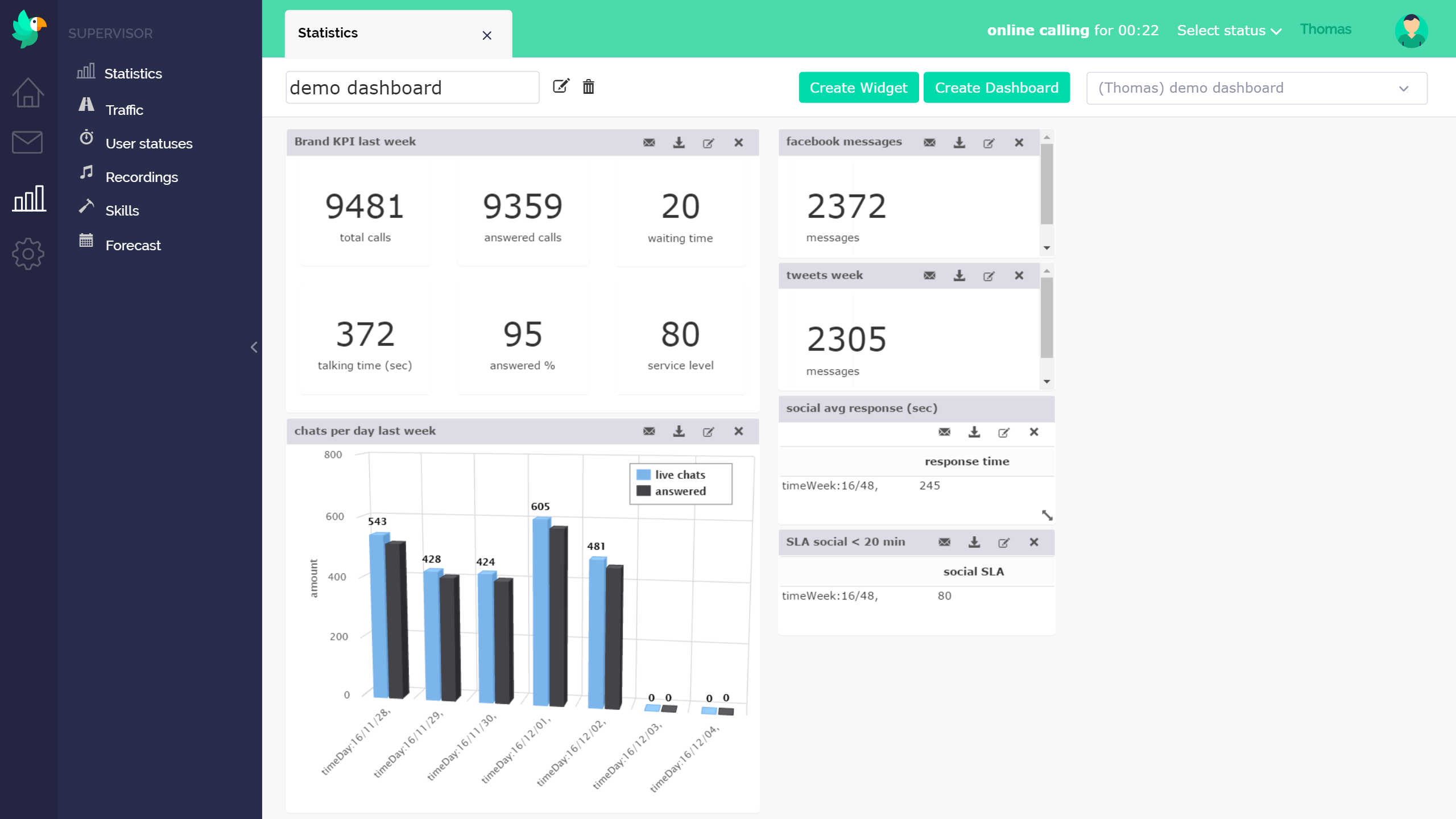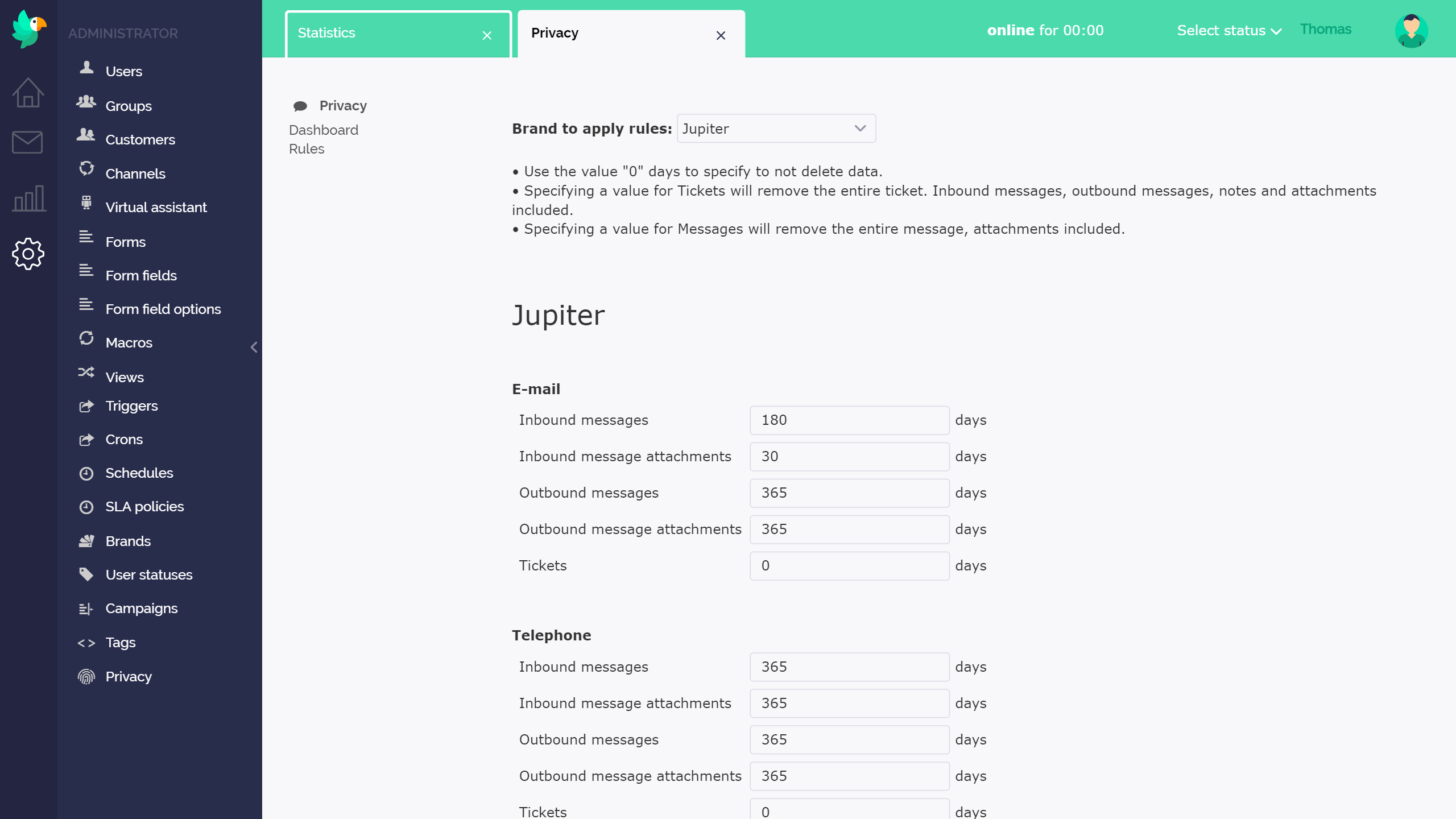 Other product features
Everything you need

Work from home
Every aspect of the application has been made so that it is easy to work from home. This is a nice alternative for the agents and also a great way to have a flexible and more scalable customer service.

Full fledged ticketing
From design Omnidesk is a full fledged ticketing application. With triggers, crons, priorities, assignment, SLA's and views to suit your workflow. From the outside the consumer will not see you deal with tickets internally: best of both worlds.

SLA
For each ticket, the turnaround time within your organization can be monitored. Do you promise to respond to your customers within 3 hours? Your customer service staff will see exactly which tickets meet these requirements.

Live channel tools
We have campaign and skill based live channel (chat and phone) routing along with live traffic management tooling.

Macro's
Macro's are an important part of managing your agents workflow by having predefined actions (forms, priority, email content, internal note content, etc) for all sort of scenarios.

API-first design
Almost everything that can be done from the browser application can be done through our API which enables nice integrations.
If you have any questions you can
Reviews From Our Users
What our users are saying about the product



Now that we are using Omnidesk we have got insight in every channel we are using with just one click.



As someone who mainly communicates with customers through Social media, Omnidesk makes it much easier. No need to switch back and forth between other platforms!



Omnidesk has contributed greatly to Simyo's high Net Promoter Score (NPS). The fact that the tool is based on our team's input and wishes adds much to its value and user friendliness. Omnidesk is the customer support tool that best fits our needs; highly recommended!
Price quotation
Price depends on:
Amount of users
Desired support
Desired SLA
Other configuration
Always included:
Hosting and organisation in the EU
GDPR privacytooling
Try Omnidesk!
Free demo en project assistance.
Contact us
Do you have any questions? Contact us